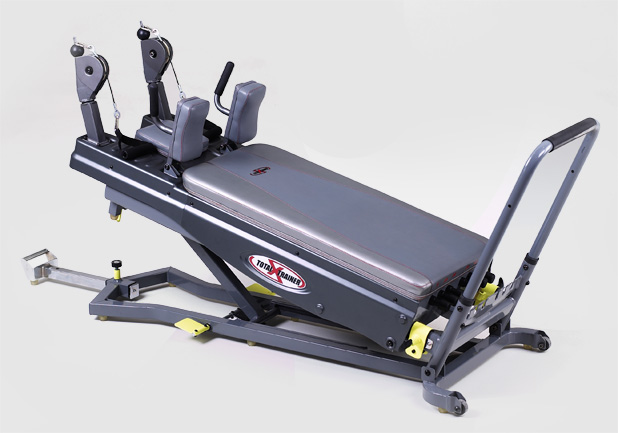 The Pilates technique focuses on core strengthening, balance, and flexibility – all the same principles physical therapists and orthopedists have pinpointed as crucial to the recovery process that follows many common injuries.
That's what makes the TXT from Milo Fitness LLC the ideal choice for prevention and rehabilitation, whether in a physical therapy or home setting.
The TXT helps:
strengthen core muscles
teach the body more efficient and balanced movement
improve flexibility and provide dynamic control of movement to help prevent injury
The TXT was designed, patented and tested by fitness industry veteran, Kevin Abelbeck, who holds 20 utility patents. Kevin's passions are product engineering and human physiology, and he combines the two any chance he gets. Learn more about Kevin now.
How It Works
The TXT combines the superior fitness features of traditional Pilates reformers in a compact, easy-to-store and portable package. The retracted length is approximately 62" end to end, with nearly 30" of travel for uninhibited movement. No external frame is used, so the pulley arms move with you to simulate the cable movement of other total body exercise machines. Watch this video and see the TXT in action.
The TXT's resistance cords offer up to 70 pounds of combined resistance. The inclinable frame adds additional resistance – up to 66% of the user's bodyweight – for an intense strength-building workout. An amazing 70+ resistance combinations for each body weight ensure things never get boring.
Assembled Specifications
Length: 62.3 in. (1582mm)
Width: 23.6 in. (600mm)
Height (Lowered): 33.1 in. (840mm)
Weight: 135 lbs. (61.2kg)
Maximum User Weight: 300 lbs. (136 kg.)
Included accessories: Handles, leg straps
Additional accessories sold separately.
Storage: The TXT maybe stored on end for storage (photo above). Multiple units may be nested together using approximately 4sqft/unit.